11 Years of Your Favorite Gowns
We get asked constantly what wedding gown is our "Best Seller". We can immediately point out a couple from our collection that are fan favorites, and a few that are being said "YES" to a lot. This question started a discussion the other day about our most popular wedding gowns throughout the 11 years we have been in business. It was fun to reminisce over these older wedding dresses and we decided it would be even more fun to track down images of these gowns and show them to you! With each successful Google Image search we could remember the little details of each dress and even the brides who said yes to them!
These wedding dresses aren't in the shop anymore but we still have a place for them in our hearts! It was like looking at pictures of old friends! Haha!!!
xoxo, The Couture Closet Gals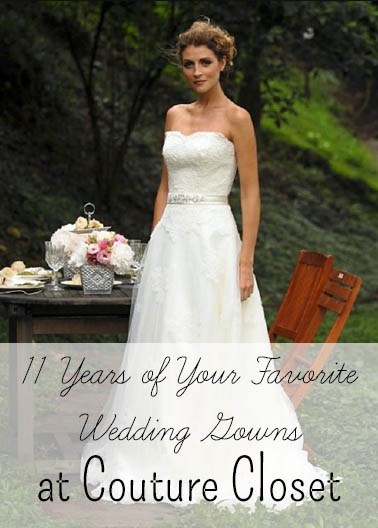 Share this picture or any picture on this post to Pinterest by clicking the "Pin It" button on the top left corner of the picture! Don't forget to credit Beca C Photography